Should You Have a Band or DJ for Your Wedding Reception Music?
Can't decide who should play your wedding tunes? Here's everything you need to know to find the right music maker for your day.
A band has its pros and cons.
There's nothing like a live wedding band to get a crowd excited and create a sense of sophistication. A good bandleader will play the master of ceremonies at your reception, interacting with folks on the dance floor, paying attention to the "feel" of the room and selecting music accordingly.
Pros: Live music is, well, live. You and your guests will experience the pleasure of a performance. Anything can happen to raise the excitement level, from an infectious horn section interlude to a moving solo.
Cons: Bands can be more expensive than DJs. Also, no matter how great the band, they can't have the repertoire of a standard DJ, who can keep a huge variety of music on hand. And if you want to hear a song the exact way the original artist performed it, you may not get what you want.
And so does a DJ.
Today's DJs are artists in their own right, offering balanced and eclectic mixes of musical styles for all ages. The songs played will sound exactly as you want them to, encouraging sing-alongs and improvisation. And, depending on the amount of equipment a DJ brings, they could take up less dance floor real estate and can be relocated with relative ease.
Pros: If there are a dozen songs you're dying to hear at your wedding, it likely won't be a problem for your DJ to find each track. Also, DJs are generally less expensive than bands. A DJ with a charismatic stage presence and excellent emcee skills can really set the mood and keep the party going.
Cons: On the opposite end of the spectrum, a DJ with a less-than stellar personality can be a party killer. Also, improvisation is tough if, say, your dad is dragging behind tempo on the father-daughter dance or your nieces and nephews decide to request the "Chicken Dance."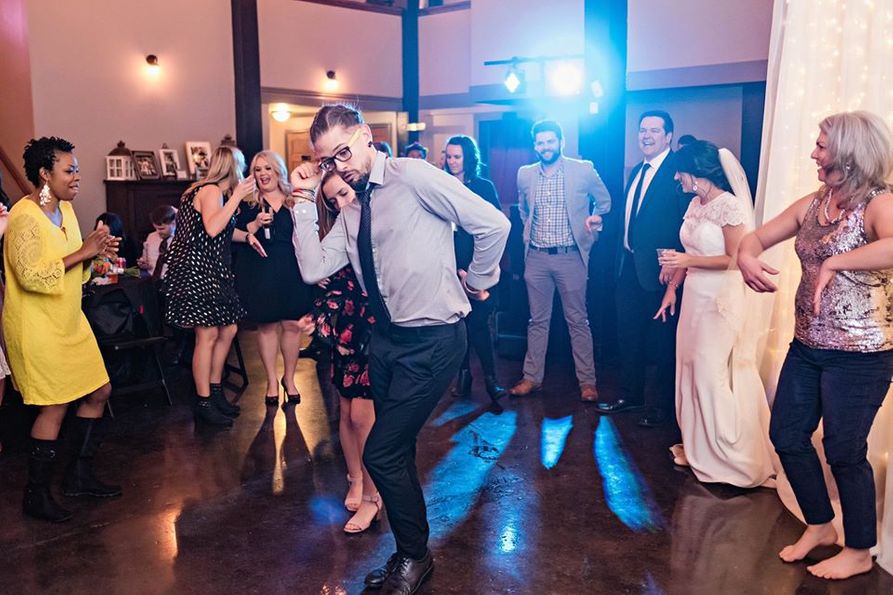 PICK ONE: DJ OR IPOD
My team and I see equal amounts of both self- and pro-DJed weddings, and what I generally tell our clients if they're trying to decide between the two is:
If one of your top three priorities for your wedding is "completely killer dance party" then go out and get yourselves a really good DJ. Or if you want music, but don't care to put the time or energy into it? DJ!
If you'd like people who want to dance to be able to, and you'd like to dance, but it's not one of your top priorities? Or if you have VERY strong opinions about music? Start building your playlist.
DJs have one giant advantage over iPods, which is that they have a huge selection of music at their fingertips and can adjust to the mood of the crowd immediately. A good DJ's job is to read the crowd and keep them dancing—they have experience doing exactly this, and are able to switch gears seamlessly when it turns out your crowd is more Katy Perry than Rolling Stones (or vice versa). They can also troubleshoot technical issues seamlessly and adjust volume levels between speakers, music, and microphones (for ceremony, toasts, etc.) easily. They can also give you tips on dance floor set up, volume for different phases of the night, and the music flow for a party. They're there to make the party happen, and the best ones are very, very good at it.
How many hours do I need when hiring a wedding DJ?
We get this question a lot. Ultimately it depends on if you need the DJ for just your reception or for both your ceremony and reception. Typically for a reception it's about 5 hours but some will only do 4 hours to shave costs. If adding a ceremony then an average amount of time is 6 hours for both your ceremony and reception however we also have seen 5 hours for both to help shave costs.
If you include the ceremony then this is what's typical of the DJ:
Prelude music 30 minutes to start of ceremony as guests are arriving and being seated waiting for the ceremony to start.
Processional song for the wedding party
Processional song for the bride
Possible music in middle of ceremony for unity sand or other similar event
Recessional music for bride, groom and wedding party after being introduced as husband and wife.
As you can see there are a lot of different things to consider. Wedding ceremonies usually only need one hour for everything from the prelude music all the way to the recessional song at the end. Receptions typically require 2 hours of background music for cocktails and dinner and then 3 hours of dancing and everything in between.
Is it OK if Guests Miss the "Cake Cutting"?
A DJ is really more than a DJ. A good DJ often doesn't get the respect they deserve, to be honest. A good DJ puts a lot of time and effort into choosing music that fits a particular crowd and the personalities of the people getting married.
A good DJ does research and asks questions to find out where the couple is from, what their backgrounds are… to see if some special culturally-significant pieces of music can be played at some point in the night. And they are also… the master of ceremonies, also known as a "wedding host." Which means they tell us all what to do!
A DJ makes the important announcements throughout the evening to inform guests of what's going on and to make sure there aren't lulls. I have to say that I don't LOVE that this has become a necessity for the modern wedding, and I still don't think it's absolutely necessary, but I understand it. What I mean is that I wish that as wedding guests (and couples), we were all MUCH more relaxed in our expectations of weddings and wedding announcements. I wish we didn't feel like we had to follow these strict minute-by-minute timelines (and you don't… but you'll feel like you do) but because this is the modern expectation. SIGH, SORRY that was long-winded.
Basically, your wedding DJ will tell your guests when the speeches are happening, when to eat, sit down, when to gather for certain traditions (parent dances, first dance, cake cutting, garter and bouquet tosses), etc. If these things are important to you, it's worth it to hire a professional DJ.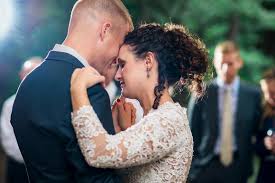 What You'll Need to DIY DJ Your Wedding
Obviously, you'll need a reliable digital player such as an iPod capable of holding enough music. We recommend that you have a playlist that is an hour or two longer than the length of your reception, which will allow you to start the music before guests arrive and have backup songs. You'll also need a good speaker system, a mixing console, a microphone (either wireless or with a long enough cable), and a cable to connect the Mp3 player – most likely a mini-stereo to dual RCA (male) cord, depending on your mixing console.
Have a Backup Plan and a Backup Backup Plan
Along with your main digital player and its power cable, it's a good idea to bring a second digital player or a laptop – all loaded with your music. You'll also want to have on hand the name of an equipment rental company who does last-minute deliveries. In case no one is dancing and you need to switch directions, you'll want that extra hour or two of music mentioned above. Odds are, you won't need any of your backups, but the cliché of "it's better to be safe than sorry" is especially true in this case.