The Do's and Don'ts of Engineered Hardwood Flooring
Have you been toying around with the idea of replacing your current commercial flooring with engineered hardwood flooring? Engineered hardwood flooring is both a stable and striking choice.
Commonly known to lend a sense of durability to interiors, it has been a popular commercial flooring choice for centuries as it portrays a variety of benefits, including:
A sustainable long-term investment
More resistant to moisture and humidity than solid hardwood
Allows for expansion and contraction of wood to be minimized
Complimentary to a variety of interior designs
Easy to clean
Environmentally friendly
High value look
Strength and durability
Although a versatile flooring choice, engineered hardwood has necessary requirements that are not always apparent to consumers. Business owners who don't research the installation and maintenance of engineered hard wood flooring often face a loss of time, money and overall investment when executed poorly.
Below are some of the most vital hardwood flooring do's and don'ts:
The Do's
Do consider the environment in which your engineered hardwood flooring will be installed. Assess the humidity and level of foot traffic within your facility and choose the right flooring species accordingly.
If you have little to no experience installing engineered hardwood flooring, do hire a professional.
When cleaning the floors within your facility, only utilize vacuums and dry or damp mops and cloths to keep the flooring clean and clear of debris.
From the point of installation, do wipe up all spills on your engineered hardwood flooring as soon as possible to avoid permanent stains and water damages.
To minimize as much tracked in dirt as possible, do place wide mats or rugs by all entrances and high traffic areas.
To avoid permanent scratches and scrapes, do place protective pads under all furniture legs including chairs, tables, couches, desks, filing cabinets, etc.
The Don'ts
Don't apply other coats of stain / polyurethane finishes on already finished engineered hardwood flooring.
When cleaning your new hardwood flooring, ensure that you don't use any wax-based cleaners or harsh detergents that will dull the finish of your flooring.
Although more resistant to water than solid hardwood flooring, it's important that you don't use excessive water when cleaning your flooring, as it can cause damage to your finish.
Where to lay solid wood flooring?
Anywhere with a relatively consistent humidity. Particularly in hallways and living areas where you can show it off.
Pros of solid wood flooring
Has a classic look and feel
Appealing to buyers/tenants if you decide to sell or let your home
Cons of solid wood flooring
Solid wood flooring swells in damp conditions and shrinks in dry
It's tough to install because it has to be glued or nailed down. Fitting the individual boards together can be difficult because they change shape after they've been manufactured
New solid wood flooring has a more expensive starting price than other wood flooring options Solid wood floorboards can amplify sound, so rugs are a good option if you have boards upstairs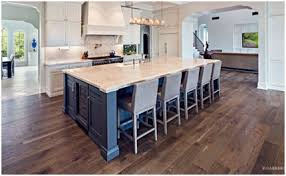 Floating Installation
Only engineered styles with 5 plies or more are approved for floating installation. Anything thinner could buckle or become damaged while floating.
Lay Down Underlayment
Any floating floor installation requires the use of underlayment. Use underlayment designed for engineered hardwood floating floors, with a minimum thickness of 1/8″ and a 2.0# density.
Leave Enough Room For Expansion
An expansion space of at least 1/2″ must be maintained around the perimeter of the room, all pipes, counters, cabinets, fireplace hearths, doorframes and any other fixed vertical objects in the room. This allows the floor to expand and contract normally. Not leaving an expansion gap can cause your floor to buckle.
Apply Glue To The Grooves (Optional)
If you would like to add extra strength to your engineered hardwood floors, you can use recommended floating floor glue for use with engineered hardwood floors for installation.
Glue placement is very important. The glue must be placed along the topside of the groove the full length of the grooved side and end.
This can be accomplished by inverting the plank and applying a bead of glue to the topside of the groove, the side of the groove nearest the face of the plank.
When the plank is turned back over the glue will run down the back of the groove giving total coverage.
Apply only a 3/32" bead of glue; if the groove i s filled with glue it will be difficult to close the seam will not allowing a tight fit.
Installation
The installation begins in the left hand corner of the room with the long direction parallel to the longest wall of the room.
Install three rows of flooring glued together and held in place with blue painter's tape with the groove side facing the wall.
If the floor's installation guide recommends for it, tap boards together with a hammer and tapping block against the tongue side only.
Spacers must be used to establish the minimum 1/2″ expansion space from the walls. Place spacers against the wall every 2 – 3″ and at each plank end joint connection.
The three rows must be straight, square and in rack because they establish the alignment for the rest of the floor. After putting these three rows together, allow the glue to set (15 to 45 minutes) before proceeding with the installation.
With the tongue facing out, the planks can be tapped together with a tapping block on the tongue to make a snug fit.
After installing 8 or 10 rows of flooring, stand back and check for crowning or heaving due to tension strapping or any damage caused by improper tapping.
If you applied glue in step 3, clean up any glue that squeezes out of the seam between the planks, wipe away with a damp cloth immediately, as dried glue is more difficult to remove. If glue has dried, then lightly scrape it away with a plastic scraper or other method recommended by the glue manufacturer.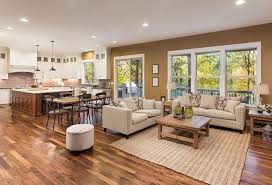 Glue Down Installation
Caution: Whether you choose to install using the dry or wet method, follow all guidelines set by the adhesive manufacturer and the instructions below. By not adhering to the guidelines the warranty on the floor can be voided.
Select A Starter Wall
It is recommended to start the installation along an exterior wall because it's more likely to be straight and square with the room. Measure out from the wall the width of two planks and mark each end of the room and snap your chalk line.
Spread The Adhesive
Spread the moisture cured urethane wood flooring adhesive from the chalk line to the starter wall using the recommended trowel size specified by the glue manufacturer.
It is important to use the correct trowel at a 45° angle to get the proper spread of adhesive applied to the subfloor, which will produce a proper and permanent bond. Improper bonding can cause loose or hollow spots.
Note: Change the trowel every 2,000 to 3,000 SF due to wear down of the notches. This assures the proper spread of adhesive.
Begin Installing The Flooring
Install the first row of starter planks with the tongue facing the starter wall and secure into position.
Alignment is critical and can be achieved by securing a straight edge along the chalk line, or by top nailing the first row with finishing nails (wood subfloor), or sprig/pin nails (concrete subfloor). This prevents slippage of the planks that can cause misalignment.
Note: The planks along the wall may have to be scribed and cut to fit in order to maintain a consistent expansion space since most walls are not straight.
Once the starter rows are secure, spread 2 1/2″ to 3 feet of adhesive the length of the room. Never lay more adhesive than can be covered in approximately 2 hrs.
Place tongue into groove of plank or strips and press firmly into adhesive; never slide planks or strips through adhesive.
Note: Do not use a rubber mallet to butt the ends of the material together as it can burnish the finish and cause marring. Use a tapping block to fit planks snugly together at side and butt ends.
Clean any adhesive off the surface before it cures using clean terry cloth towels, mineral spirits or adhesive manufacturer's glue removal product.
Use straps to hold planks securely in place as you are installing and continue the process throughout the installation.
Note: Never work on top of the flooring when installing.
Light foot traffic is allowed after 12 hours but wait 24 hours after installation to remove straps.
What if I need or want to change the color or finish?
Maybe five years from now, you decide to put your home on the market and the buyer says the color of your floor is a deal-breaker.  Or, after your children have grown and moved out, you want a fresh and different visual.  No worries, there are several solutions, depending on the construction of your hardwood.
Pre-finished solid hardwood can be sanded, re-stained, and refinished multiple times, over many years, to bring a worn floor back to life, or completely change the color to complement a fresh, new room design.
An engineered "face" or "wear layer" thickness can vary and correlate with the method of milling.  A thicker wear layer on an engineered product can actually permit full sanding for a refresh and complete color change.  Consult your dealer to determine if your engineered selection will allow full sanding and re-staining, and refinishing.
All engineered and solid hardwood flooring can be refreshed with a fine sanding, referred to as "screen and recoat."  This process removes the worn urethane coatings to allow a new finish application.
Be prepared to lose most distressing, wire brushing or scraping if you choose to fully sand and refinish any hardwood flooring.