What is a Sewer Scan Camera Inspection?
To inspect the main sewer line from the house to the public sewer system for possible problems, a special sewer video camera is inserted into the main sewer line cleanout.  Then everything is watched on a monitor, and our sewer scope inspectors sometimes record a video or take pictures of any issues within the pipes.
The sewer line inspection service is available in Oakland County, Macomb County, and some areas of the surrounding areas. Please to schedule an inspection, or schedule online.
3 Signs Your Main Sewer Line is Clogged
The sooner you recognize the warning signs of main sewer line blockage and call for a sewer line inspection, the better. Clogs in the main sewer line that goes ignored or unnoticed can lead to costly repairs, but can also expose your family to contaminated water. Here are a few signs of possible issues:
Multiple backed-up drains. If more than one drain is slow-moving, gurgling, smells bad, or has water backing up, this most likely indicates a main sewer line clog.
Water overflows into different plumbing fixtures. This happens because water from one branch line tries to drain away, but the main sewer clog blocks it and forces it to back up into other smaller drains.
Drainage in sewer clean out. Remove the clean out cap. if there is sewer water flowing out of the pipe or standing in the pipe, this also indicated you have a sewer line clog.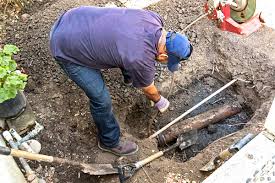 What problems can be identified using a sewer line camera?
A sewer inspection video camera allows the service technician to see any problems with the pipe. This might include root intrusion, cracks, punctures, corrosion, or misaligned pipe sections. The camera will also identify grease buildup, leaks and obstructions. A follow-up video inspection can be conducted after service is performed to verify that the pipeline has been properly cleaned or repaired.
When should my pipes undergo an inspection using a sewer line inspection camera?
This type of inspection is recommended if you experience repeated sewer or drain line backups, slow drains or clogs. Additionally, realtors and prospective homeowners often see the cost benefit of conducting a professional video inspection of sewer pipes before purchasing a home. The sewer inspection will determine whether the sewer line is free of problems that could lead to expensive future repairs.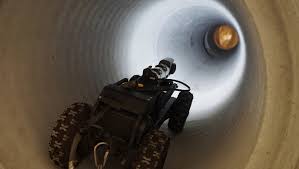 How do you know if you have a collapsed drain?
Key signs which are accurate indicators if you have a collapsed drain. Collapsed drains must be fixed as soon as possible to minimise the damage and the expense of fixing them so if any of the following symptoms present, it's best to get a professional out and act quickly.
Backed up sewers or regular pipe blockages
These 2 less than savoury events are an indicator of a collapsed drain as the sewage can't physically move through the collapsed pipe so it gets backed up. If this happens regularly then it implies damage to the pipe or a collapsed drain. Ordering a CCTV survey will confirm this, so you can act on it.
Strong smell of sewage
If there's damage to a pipe or a collapsed drain, then you'll regularly notice the smell of sewage in or around the home. Once drains have been unblocked then it's likely this will disappear but with a collapsed drain, this will continue to reappear until the issue is fixed.
The presence of rodents or other unwanted visitors
When a drain is compromised it's easy for rats and other sewer-dwelling creatures to gain access to your home. They may start to reside in the pipes and there's no reason why they won't venture closer and closer to the home, especially if the sewers are backed up and leaking into the home. Dealing with the infestation first is key, then you can deal with the drainage problem. Prevent the infestation from day one by looking into non-return valves which allow sewage to flow out but not back in, as shown above.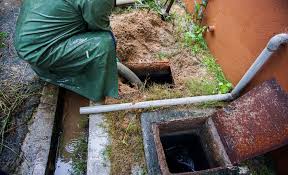 Slow Drains
There could be several reasons for water that drains off slowly from your sink, shower or bathtub, so it's not necessary to panic straight away. If it is just the shower that is taking forever to drain, the problem is probably something to do with the plumbing inside instead. Try to clear the blockage yourself by checking the plughole and using the plunger to create enough force to move the blockage.
If that doesn't work, get rid of as much of the water as you can and then pour a cup of baking soda down the drain. Follow this up with a cup of vinegar. This is a natural method that doesn't contain any of the nasty chemicals that are usually present in the drain cleaner.
Why not just use drain cleaner? Because, if there is a problem with the main line, it's likely to be a tree root, or collapsed pipe. There is nothing that drain cleaner can do about that. It can actually cause further damage because the chemicals in it are highly corrosive in nature. The longer that they sit in the pipe for, the more potential there is for corrosive damage to occur. Like with the clogged drains, to properly diagnose a mainline issue, the problem would have to be present in several drains in the home.
Your Lawn Is Soaked
Because your home's main sewage line is located outside, if there are any issues with your sewer line, it is very likely that this will reflect onto your lawn. If your sewer line is collapsed or if there are cracks in the sewer pipes, then it is easier for dirt to make its way inside. This would also mean that water can now escape and makes its way outside, such as onto your lawn. If you notice that your lawn is persistently soaked, or you can see any puddles, it could definitely be a sign that there are issues with your sewer system. This needs immediate attention because a cracked or broken pipeline not only wastes water and unnecessarily increases your utility bill, but it can also lead to further damage and costly repairs that are best avoided. Another indication of a soaked lawn is fast-growing grass. If you notice that your grass has been growing exceptionally fast lately, this could be because of your damaged sewer line.
Insect and Rodent Infestation
On that note, an unusual increase in insect and rodent activity can be a sign that you have a broken sewer line. Rodents make their homes in sewers and can squeeze through the smallest cracks to find their way into your home. The same can be said for insects that can wriggle through a cracked drain pipe and breed in the stagnant water, allowing them to multiply rapidly. Both rodents and insects can cause health issues and need to be dealt with along with the sewer line breakage itself.
Mold & Mildew
Wet spots on your home's ceilings, walls, or floors can all be signs of a collapsed sewer line or broken water pipe. If left unchecked, water infiltration from a sewer or water line can cause mold and mildew to spread rapidly. The spores from these fungi can cause severe allergic reactions, and their ability to eat through organic building materials over time can cause damage to your home's interior, exterior, or foundation.
Broken Slabs and Wall Cracks
Buildings will often develop cracks in the concrete slab and supporting walls as they settle and the ground shifts beneath them. However, if your home is developing new cracks it may be because you have a broken sewer line that is washing away the soil supporting the foundation. If the crack is caused by a leak, the situation is unlikely to improve over time. More water will continue to wash away the surrounding soil until the foundation can no longer support the weight of the structure above. In a worst-case scenario, the house itself may collapse. A thorough inspection can determine if you have a sewer line breakage or another issue that is causing your home or business to develop cracks.