5 ELECTRICAL UPGRADES YOU'LL WANT FOR YOUR HOME
Updating your home can be fun, but you'll also want to consider some electrical upgrades. Whether it's the kitchen, bathroom, or basement you are planning to remodel, consider every electrical component of the house first. Do you need more outlets? Are the light switches and fixtures modern? Do you need a ceiling fan installed? Is it time to upgrade the breaker box panel?
Many homeowners don't think about the electrical system until it doesn't perform like it should. As they tackle remodeling, they find out later that they needed some electrical upgrades that they still want but didn't consider. So before you make the first step in a home makeover, consider the electrical system first and plan for it in the budget. Here are some electrical upgrades you might be interested in.
Smart Home Features
If you would like to make your home life easier, installing different smart systems throughout the house is a great project. You can have everything automated and controlled remotely if you so prefer. Here are a few smart electrical upgrades you'll want to consider:
Remote controlled sprinkler system
Remote controlled heating & cooling
Remote security & video surveillance system
Smart thermostats
Smart alarms, sensors, and sirens
Remote controlled lights
Smart Hubs
Smart smoke alarms
Grocery ordering refrigerators
Remote controlled drapes or blinds
Panel Upgrades
Today's modern technology requires much more power than the older models. Although many manufacturers boast of energy efficiency, by comparison, they still utilize more energy. This is because of larger and more feature-packed washers and dryers, refrigerators, microwaves, dishwashers, and media-driven electronics and gadgets. Overall, the average household is using 30%-50% more energy than ever before. When remodeling any room in your home, consider how much energy it will utilize and whether or not your electrical system can handle it in a manner that is safe and efficient.
Outlet and Receptacle Considerations
Receptacles and are like any other part of your electrical system. When installed, they must be safe and efficient. You may love the way a certain receptacle looks on your wall. The real question, however, is will it perform the way it's supposed to. You've noticed that high-energy appliances use different receptacles, such as a specialized model for your washer or dryer. The reason for this is that these appliances require large amounts of power and need a certain type of receptacle that can accommodate it. When remodeling, get advice from a professional electrician in order to get the right outlets and light switches for the electronics and appliances in your room. There are several options and many of them come with great decorative features that put the finishing touches on your room.
Modern Light Switch Features
When it comes to creating the right room atmosphere, lighting is everything. The right light can create energy or give you a soothing environment. Although the right type of light is important, light switches control them. So be sure you install a modern switch that makes controlling the lights easy. For instance, dimmer switches are very popular they allow just the right amount of light. There are many other options including 3-way, 4-way, sliders, different size switches, multi-locations, dimmers, and even remote control lighting. With all the options available, you never have to settle for boring light switches again!
Rewiring & Rerouting
Most room renovations include moving things around. For instance, you may re-conceptualize your entire kitchen and want the counter transferred to the other side of the room. While this may be a more aesthetically pleasing approach, your current electrical system may not be in a position to accommodate the move. Before you know it, you have to pull the counters back off the wall and make the adjustment. So make sure that there are actually wires behind the wall before you move your kitchen components, appliances, or electronics.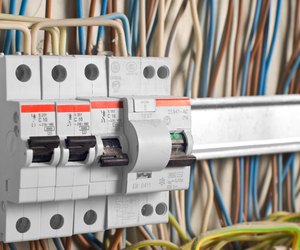 How to Update your Electrical System?
The first step is to upgrade your panel by bringing more power from the utility to your home. You can replace the existing meter and circuit breakers to allow it to handle more power or replace an electrical panel or circuit breakers that are obsolete, damaged or dangerous. Doing this enables your electrical system to have more power to distribute without affecting the wiring inside the home.
The second step includes adding extra circuits that can distribute the power to your rooms and appliances.
Updating the system may also include adding new electrical outlets and replacing the used cable, old cable wires and receptacles.
What Risks does a Malfunctioning Electrical System Pose
There are a number of reasons why malfunctioning, old or faulty wiring represents a huge problem for a few reasons. Some of them include:
An old electrical system creates a fire hazard, putting you and your loved ones at risk. One of the biggest causes of house fires is bad wiring. When the wiring becomes exposed or heated or when sparks are created, materials around it get ignited which eventually leads to a big fire.
The risk of electrocution increases. If the wiring gets old and there are signs of wear and tear, then the electrical current won't be transferred properly. The insulation may have holes in them. In both these cases, there will be a serious risk of electrocution.
The lifespan of your electrical appliances will be cut down significantly as the faulty wiring won't be able to manage the power in a safe manner, as it once did, and it may short your appliances. Further, the faulty wiring and electrical system may not have the capacity to support modern appliances which will cause your washing machines, dishwashers and microwaves to wear out quickly.
The overall efficiency of your home's energy will be drastically reduced. This will also show up in your electric bills apart from the appliances getting ruined.
Signs that you Need to Update your Electrical Panel
If you observe any one of the following signs, then it is time to get your electric system updated:
Breakers tripping frequently
Fuses blowing repeatedly
Constant flickering or dimming of lights
A tingling sensation whenever you touch any electric appliance
Warm, discolored or sparking outlets
A persistent burning smell from a room or appliance
Two-prong ungrounded outlets throughout the house
No Ground Fault Circuit Interrupter (GFCI) outlets in various rooms and areas exposed to moisture e.g. kitchens and baths.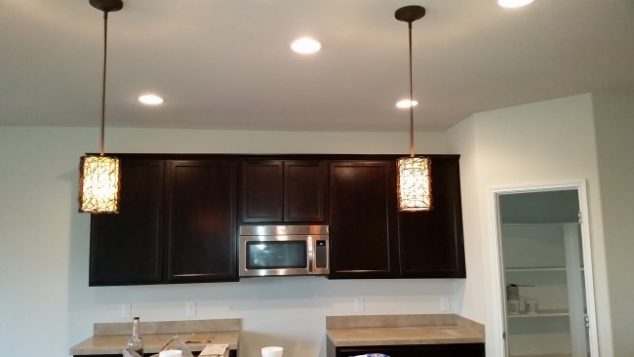 Can Homeowners Legally Do Electrical Work on Their Own Houses?
Performing even minor electrical work on a home brings with it a series of risks, both to the worker and the people who'll eventually inhabit the house, so states and local governments produce and enforce building codes that promote safety. In many cases homeowners can perform their own electrical work without the help of a trained professional, as long as the work complies with local codes.
Allowable Actions
Some forms of electrical work fall outside of any state or local regulation. In general, homeowners can perform only the most basic repairs on their own, without any form of license or permit. This includes tasks such as replacing a light switch, outlet cover or lighting fixture. It also includes replacing a fuse box, but only when the replacement box is the same type and size as the previous box. Most other electrical work requires a permit.
Permits
Electrical permits ensure that homeowners who perform their own electrical work–or hire contractors to perform it–comply with local building safety codes. Homeowners can apply for permits to perform their own electrical work. Some local governments–such as the city of Boise, for example–only issue electrical permits to homeowners who don't plan to sell their homes within a year. Homeowners also must supply proof of ownership and identification to receive electrical permits that allow them to make repairs or expand a home's electrical system.
Licenses
Electrician licenses allow trained professionals to perform electrical work and charge for their services. Homeowners who plan to sell their homes in the near future, or who perform work on homes other than their primary residence, must either hire licensed electricians or become licensed themselves. Licensed electricians still must apply for and receive the same permits as homeowners who do their own work.
Penalties
Homeowners who perform unauthorized electrical work on their homes without the appropriate permits, or who perform work on others' homes without a license, face stiff criminal penalties. In New York, for example, false representation or violation of the state electrical work code is a misdemeanor. Fines range from $500 for a first offense to as much as $5,000 for a third offense, as of 2011. A third offense also carries the possibility of up to six months in jail, in addition to a fine.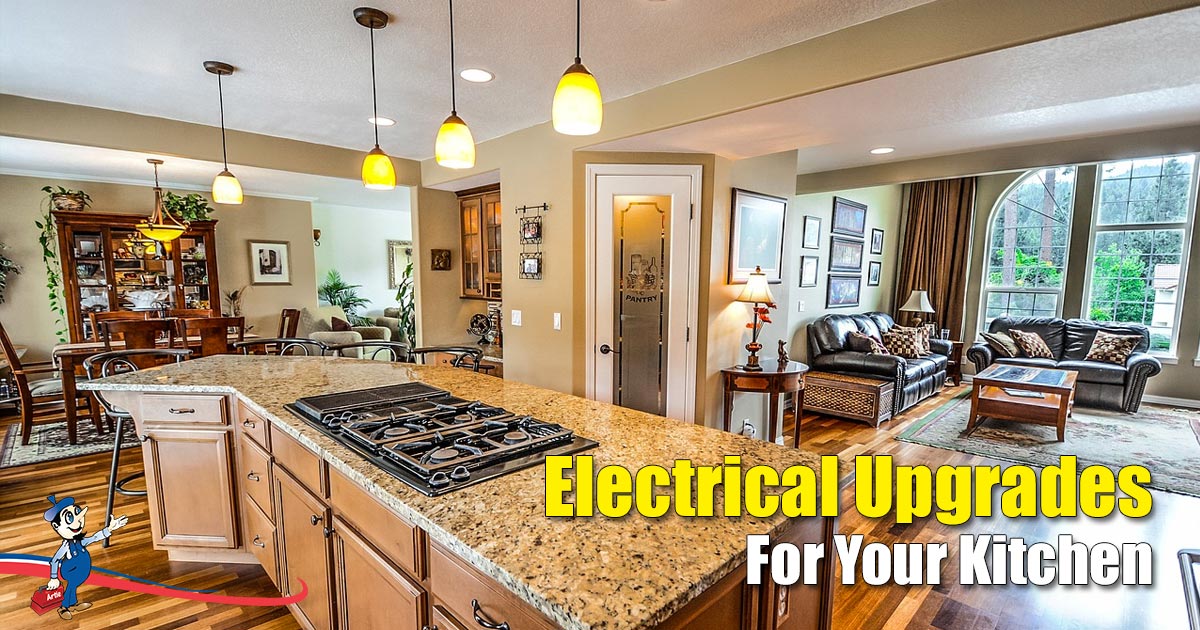 Powerful Electrical Upgrades
With the large amount of electrical equipment found in the modern home, it's no wonder that electrical upgrades are becoming more common. Handling the electrical needs of today's homeowner is no small task, and to keep everything running smoothly, new electrical wiring is often a necessity, especially in homes built many decades ago. If you are considering an electrical upgrade for your home, there are a few things you should be aware of; an electrical wiring project is no small task, and the more you know about what's available, the better you'll be able to communicate to your contractor what you expect from the job and how much it will cost.
Planning an Electrical Wiring Project
A large electrical wiring project adds a considerable load to your main electrical service. In about 25 percent of all homes, some type of service upgrade is needed before new wiring can be installed. For example, many homeowners will need to replace an older 60-amp electrical service with a new service rated for 100 amps or more. A licensed electrician is needed for a job like this.
Careful planning of a wiring project ensures that you will have plenty of power for present and future needs. Whether you are adding circuits in a room addition, wiring a remodeled kitchen, or adding an outdoor circuit, consider all possible ways the space might be used, and plan for enough electrical service to meet peak needs. One of the worst things you can do as a homeowner is to spring for an electrical upgrade that doesn't upgrade enough. With technology getting bigger and better, it's important to make sure that your electrical wiring isn't simply good enough for now, but good enough for whatever may come in the future.
Electrical Upgrades for Your Circuit Breaker
Electrical wiring is not a job for most homeowners to tackle themselves, but it is a good idea to know a little about what will be required to bring your house up to speed when talking with your contractor.
One way to plan a new wiring project is to look in your main circuit breaker. Though some homeowners might be intimidated by their circuit breaker, most should easily be able to find the size of the service, and read the amp rating printed on it. In most cases, 100-amp service provides enough power to handle most loads. A service rated for 60-amps or less may need to be upgraded.
Look for open circuit breaker slots in the main circuit breaker panel. You will need one open slot for each 120-volt circuit that you may plan to install, and two slots for each 240-volt circuit. If your main circuit-breaker panel has no open breaker slots, you will need to have a sub panel installed.
Electrical Inspectors
Remember, all electrical wiring work requires review by your local electrical inspector to make sure the changes conform to local electrical and building codes. Failure to have proper permits and inspections can cause problems that can cost far more time and money than some homeowners (or unscrupulous contractors) may think they can save by doing work "under the table." You could have trouble reselling your home in the future, or worse, your homeowners insurance could refuse to cover your loss in a house fire because the house was altered illegally!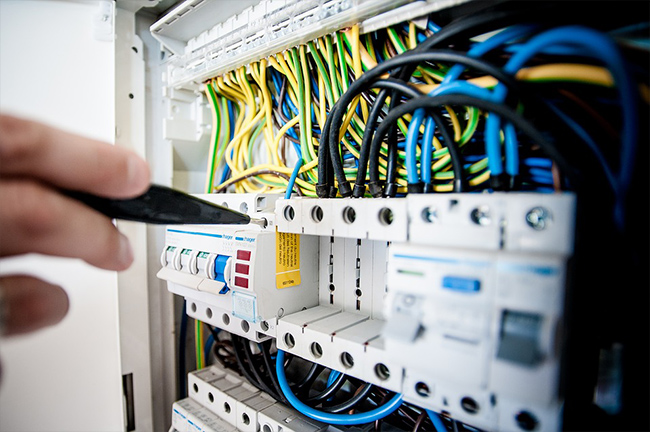 Some New Ideas For Kitchen Electrical Upgrades
Whether you are building a house from scratch or remodeling your home, here are some ideas you can ask your Art Plumbing, AC & Electric qualified electrician to include in the kitchen. After a consultation with you, he will be able to provide you with an electrical wiring plan that considers appliances which will move from place to place or remain stationary, specialized flexible connections needed for stoves or built-in ovens, and light placement for optimum visibility.
Pop Up Electrical Outlets
If you don't like clutter on your kitchen counter, then a pop-up electrical outlet is for you. This outlet with several plug-ins, pops up from under the counter and can be pushed down again when not in use. When placed with cabinets under the counter, it is totally hidden from sight when not in use.
Invisible Outlets
Electrical outlets recessed about half an inch into the wall, allow you to push the electrical appliance right up against the wall. This in turn not only gives you more counter space but the unsightly plugs and cords remain hidden.
Upgraded Lighting
There are many new and exciting kitchen lighting options. Under counter LED lighting can now be connected to a control unit that allows the light to change colors and create different moods. Accent lighting can be placed in different areas of the kitchen creating an illusion of space. Display cupboards with glass doors can also be fitted with spotlights to attractively display the contents inside. Consult your kitchen lighting expert to advise you on the various exciting options available.
Ground Fault Circuit Interrupter (GFCI) Plugs
This upgrade was made compulsory in 2014 in all newly built or remodeled homes. This plug monitors the flow of electricity and trips the circuit, cutting electrical flow, if it senses any electrical fault. This has greatly assisted in the prevention of electrical fires and electrical shocks.
Designer Switches
You no longer only have the choice of black or white plastic switches. You now have many color and material options for your switches and switch plates ranging from stainless steel to stone. You can now customize your kitchen switches to your taste.
Data Ports
Data ports with USB wiring enable you to plug in and charge your phone and other devices in the kitchen. Once considered a luxury, most home owners are now requesting this electrical upgrade in their kitchen for obvious reasons.
Dimmers
Whether you have a headache and don't like bright lights, or simply want to create a romantic atmosphere, a bulb parable with a dimmer switch is a nice addition to your kitchen lighting. Say goodbye to the harsh, often unattractive fluorescent light that used to come standard in all our kitchens and welcome the new, customized version you have chosen.
Induction Stoves
An upgrade from your normal gas or electric stove, induction stove plates precisely heat up only the bottom of the pot while the rest of the stove surface remains cool. Using electromagnetic technology these stoves not only heat faster and are safer but save you money as no heat is wasted.
Designer Cooker Hoods
Cooker hoods have evolved from an unsightly kitchen necessity to a custom designed kitchen appliance. You can now decide if you want your cooker hood to be a feature or to blend to its surroundings.
All electrical upgrades and installations must only be carried out by a qualified, certified electrician. Not only will we know and follow all the safety regulations, but we will also be able to professionally advise you on the correct placement of lighting, plugs and switches. A professional knows what's new and exciting on the market and can assist you to customize your kitchen electric requirements to suit your family's lifestyle and taste.