Kitchen Remodel Ideas that Have the Highest Impact on Resale Value
If you've been looking for design inspiration to remodel the kitchen on Pinterest, that's great! You deserve to have a kitchen remodel that you can be proud of. But amidst all that, don't forget to take things beyond the aesthetic. A functional kitchen is way more important than just a beautiful kitchen. Why not take your search up a notch up by narrowing down on the kitchen remodel ideas that are actually worth it?
And we don't mean just aesthetically or in terms of the added convenience they offer — we also mean in terms of money. The idea is to create a kitchen you like working in, in a budget that you can afford, while also ensuring that you gain a return on your investments. It's the details that count when it comes to remodeling. Just like everything else, not every investment has equal returns; so elements need to be picked carefully. The right changes in your remodel can boost up your ROI while the wrong ones will cause a staggering fall.
Compromising on quality by opting for cheaper options for a kitchen remodel will not do you any favors either. The items won't last long, and it will only have a severe effect on your ROI. Besides, can you imagine the hassle of replacing those items in just a few months?
Painting Your Kitchen Walls During Your Remodel
Sometimes it's best to take a step back from the nitty-gritty and look at the bigger picture. Your kitchen is an essential place in your home, as many family moments are created and cherished in the kitchen.
And for it to be that place, a lot goes into it too. There's kitchen cabinets, countertop, appliances, and so on. But for these elements to stand out, your kitchen needs the right color scheme. Based on the wall paint, you can then choose the right color for kitchen cabinets and countertop too. In a way, your walls play an even more significant role in setting the kitchen design scheme that other things simply follow.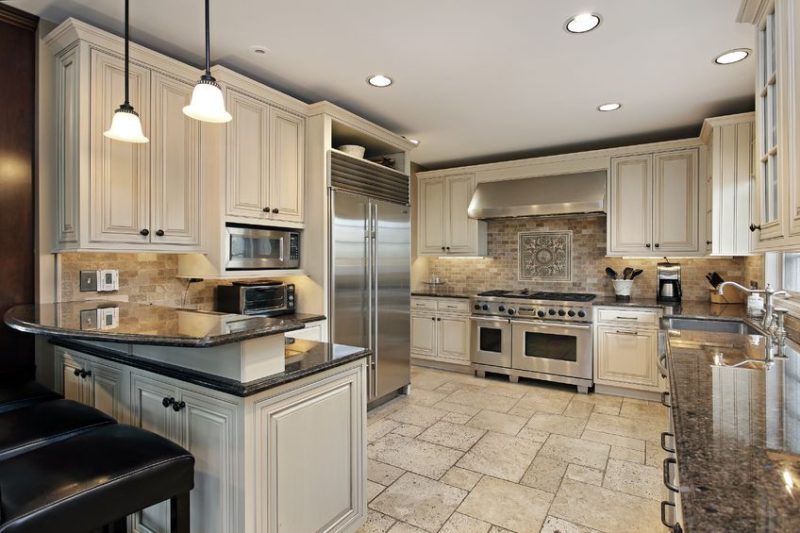 Things To Consider When Planning A Kitchen Remodel
We all know that life happens and change is inevitable. Even if you were completely in love with your kitchen when you first moved into your home, you may find it no longer suits your needs or style. In most cases, remodeling your kitchen is much more practical and cost-efficient than moving houses. But, at the same time, planning a kitchen remodel is no easy feat. Planning is paramount to ensure you get what you want and need without wasting time or money along the way
Life Stage
The stage of life that you and your family currently find yourselves in will have a big impact on the way you design your kitchen. The amount of traffic you expect your kitchen to see will affect not only the layout but the materials you choose as well. For example, if you've had kids since your previous , you may need to make it more child-friendly this time around. If you have a busy, active family, a design with good flow and an easy-to-navigate layout could be extremely beneficial for you. You may even want to consider materials that stand up to heavy use and are easy to clean. Whatever your needs are, incorporate them into your new design to help make your kitchen as efficient and easy to use as possible.
Timeline
There is no question that remodeling your kitchen will take time and cause upheaval in your family's daily routine. This is something that is extremely helpful and important to plan for ahead of time. How will you shift and accommodate not having regular access to your kitchen? Will you eat out more? Do you have the space to organize a temporary, make-shift kitchen in another part of your home? If the weather is nice, maybe you will do a lot of outdoor grilling. Talk to your project manager about deadlines so that you will have an idea of how long you can expect to be without a kitchen. Being able to see a light at the end of the tunnel and knowing that your dream kitchen is waiting for you can often make the inconvenience a lot easier to endure.
Budget
Before you start your kitchen , it's important to set a budget. Figure out what you can safely and comfortably afford and plan accordingly. Then, talk to your project manager and see which projects are the best to tackle first. If you know that you only have enough money set aside for a few projects, take some time to prioritize which ones are most important to you. At the end of the day, you may not be able to remodel your entire kitchen, but at least the elements that are most beneficial to you will be out of the way.
Functional Layout
The kitchen is the heart of the home. It can host many different activities such as food prep, , entertaining, and family time. Because of this, the layout of your kitchen is one of the most essential elements to consider when planning a remodel. You want your space to be functional. So, before you start, it's important to know and understand what kind of space you have to work with.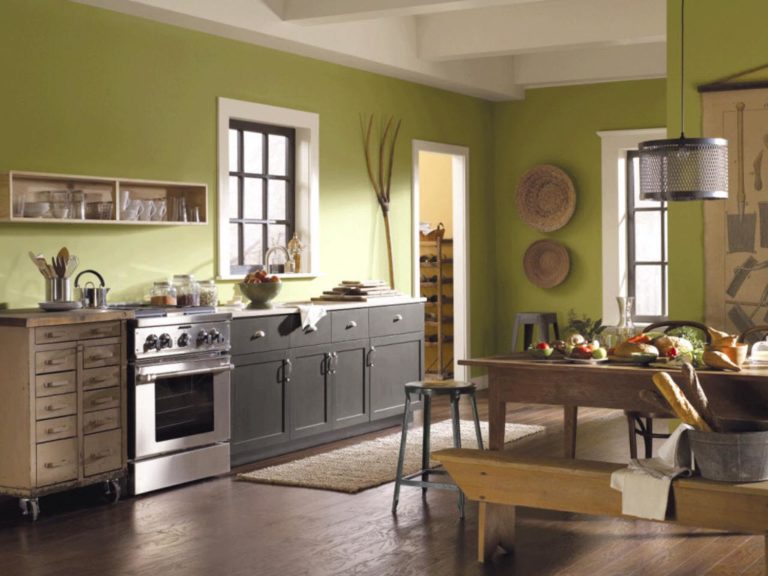 Kitchens That'll Make You Want to Redo Yours
The kitchen is probably the most used room in your house, so you want it to be a space you enjoy spending time in. And aside from functioning appliances, a kitchen design you'll love for years to come is of utmost importance. So whether you're renovating or simply looking for some inspiration, we found 90 kitchen design ideas that will help you optimize your own—and the best lessons to take from them. From country casual to sleek and modern—and literally everything in between–we've got all the kitchen remodel inspiration you could ever need. Gorgeous countertops, unique backsplashes, and statement lighting, we're coming for you
Tile Your Hood
Cover your hood in the same material as your backsplash to make it look sleek and clean. Here, interior designer Heidi Caillier camouflaged a bulky appliance with zellige tiles.
Strike a Balance
This kitchen by Romanek Design Studio proves that balance is everything. The dark, moody tile walls, sleek backsplash, and stainless steel appliances assert an undeniably glam aesthetic while the wood and brass tones ground the space and give it that classic classic warmth. The bohemian runner also adds just enough color and fun.
Mirror Your Surfaces
If you love shiny stainless steel and edgy mirrored surfaces, take the metallic look to the next level with a gold mirrored island. In this kitchen designed by Dries Otten, the island brings some glamour to the playful elements throughout, like the single pendant light, swirls of pink marble, and cobalt blue loft railing above.
Choose an Adventurous Wallpaper
This swirly wallpaper proves that making adventurous design decisions can pay off. In this kitchen designed by Rita Konig, the wallpaper in question is Antoinette Poisson's Jaipur. We love it even more paired with the rich purple-veined marble and painted cabinets. To protect it from water damage, Konig added an invisible glass over the wallpaper between the counter and cabinets.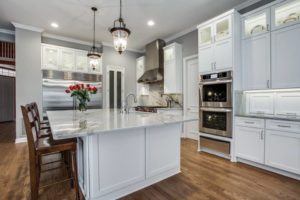 What things do you need for kitchen renovation?
Design style and cabinetry
Explore kitchen designs that suit your personality, your lifestyle and the style of your home. There are no right or wrong conventions, but the style of kitchen you choose should blend perfectly with the rest of your interiors.
If you're the proud owner of a period property you may be considering a traditional kitchen style. In a contemporary property you'll have a mandate for much more minimalist and streamlined modern designs. That's not to say modern kitchens can't be embraced in older homes, so long as it blends with the rest of the home and is tastefully done
Flooring
The type of flooring you choose, along with its colour, can have a huge impact on the look of your kitchen. Limestone or marble tile floors are elegant bases for large traditional kitchen spaces
Worktops
As with flooring, worktops can make or break the overall look of the kitchen. Countertops are the workhorse of your kitchen, so durability should be factored into your choice. You'll need to think about practicality of material for everyday use, the overall style and the color
Sinks and taps
There are plenty of style options and sizes when it comes to choosing a humble kitchen sink. There are also a wide variety of tap types to match. The kitchen sink is probably one of the most hardworking pieces of equipment in your kitchen, so it's an important design aspect to get right.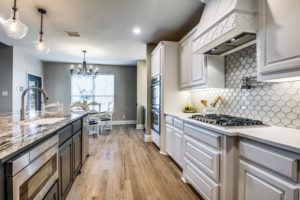 THINGS TO CONSIDER BEFORE A KITCHEN REMODEL
Is a kitchen remodel on the horizon? If you've been catching yourself dreaming of an update the heart of your home (which may or may not be screaming late 90s/early 2000s), we've put together a list of things to consider before a kitchen remodel goes into play
We gathered our team to discuss common factors that we encourage our clients to consider before taking the renovation plunge. Not that we don't think it's a great idea (we're in that business after all), but just that things will go a whole lot smoother once you have a clear direction in place.
BUDGET
This is by far the MOST important thing to consider. There are many factors that come to play here but at the end of the day your budget needs to be your budget. There are also underlying costs that are unforeseen that we won't know about until we open up walls and demolition takes place, so we suggest to our clients to have a 10-12% contingency fund of the total cost of the project put aside for the 'what ifs'. It's best to be prepared and if you don't need it – all the better!
LAYOUT
Speaking of budget, do you want to keep the existing layout? Or add/remove walls? That will significantly affect the cost (relocating plumbing, electrical and such can vastly change the budget). If the walls are load bearing, permits may be required depending on the structural work being done (which can make another hit to your budget). Something important to consider for condo owners–are strata approvals necessary?
DESIGN
If you've been dreaming of a kitchen remodel for a while, it's probably safe to say that you have a specific look/style in mind. With the powers of Pinterest and Instagram, we have access to amazing inspiration. Interior design is best left to a professional, which is why we have an in-house designer at Novero. To ensure you get exactly what you wanted (and more), our Design Team works closely with our clients to decide on everything from plumbing fixtures and paint colours to cabinetry profiles, etc. We also start by asking our clients, how they want their kitchen to function, because functionality is important and often missed without the help of a professional designer to help you see the bigger picture.